2016 Fall Conference
Register now
Learn more
Call for papers ■ Conference overview ■ Pre-conference workshop ■ Photos ■ Hall layout ■ Large equipment ■ Exhibitors ■ Top Ops ■ Backflow Challenge ■ Meter Madness ■ Water-Tasting Contest ■ Benefit Poker Night ■ Raffle ■ Children's Poster Contest ■ Dignitary ■ Scavenger Hunt ■ Past Chairs Breakfast ■ Awards
Call for papers
The deadline for paper submissions was May 31st.
Conference overview
The Fall Conference is a combined event of the Nebraska chapters of the
American Public Works Association (APWA)
,
Water Environment Association (WEA)
, and American Water Works Association (AWWA).
The conference returns this year to the
Younes Conference Center
in Kearney.
Conference registration (forthcoming)
Tuesday
November 1
Wednesday
November 2
Thursday
November 3
Friday
November 4
Vendor expo
Vendor expo
Vendor expo
APWA conference
NWEA conference
NWEA conference
AWWA conference
AWWA conference
Preconference workshop
A preconference workshop, "Managing Water Resources: System Losses, Auditing, Conservation, and Drought Preparedness", will be held on November 1, 2016 from 8:45 am to 4:15 pm. The workshop will be offered as a complimentary training opportunity to operators, but registration is requested. This workshop will help you address your systemís drought vulnerability, establish an effective water loss control program, and reduce water usage to conserve resources and reduce operating costs.
Photos of the event site
Conference hall exterior
Banquet hall
Classrooms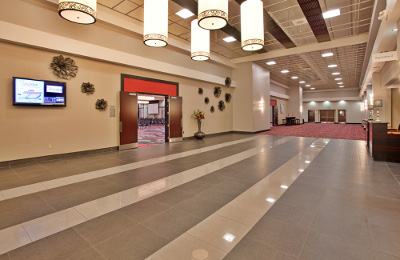 Conference hall
Hall layout
(Layout forthcoming)
Large equipment
The Fall Conference venue allows for large equipment to be displayed. Several large booths (20' wide by 8' deep) are available for vendors who wish to exhibit large equipment.
Exhibitors
Exhibitors and sponsors are invited to participate in and support this year's Fall Conference.
Exhibitor invitation letter (forthcoming)
Exhibitor contract (forthcoming)
Sponsorship (forthcoming)
Top Ops
The Top Ops contest will again challenge participants with a wide range of questions about water treatment and distribution. The winners will go on to represent the Nebraska Section at the 2017 AWWA ACE.
Cash prizes are also on the line:
First place: $60 per participant
Second place: $40 per participant
Third place: $20 per participant
Backflow Challenge
Rich Koenig will host the Backflow Challenge and Ultimate Backflow Challenge.
Meter Madness
"Meter Madness" returns, open to any operator or utility member willing to give it a try.
Water-tasting contest
The Public Information committee will host a water-tasting contest, as it has done each year since 2009.
Benefit poker night
The
Young Professionals committee
will host a poker tournament. All conference attendees are invited to participate and help support Water for People. This has been a wonderful event over the last few years and we want to keep the positive momentum going.
Water for People Raffle
The Water For People committee is conducting a benefit raffle. Tickets are $10 each, or three for $20.
First prize: to be announced
Second prize: to be announced
Third prize: to be announced
Children's poster contest
Visiting dignitary
Our visiting dignitary will be AWWA Vice President Kevin Bergschneider.
Scavenger hunt
How well do you know your board of directors and committee chairs? Take part in a scavenger hunt and find out who has little-known skills and talents or unique autobiographical facts to share.
Past chairs breakfast
Past Chairs of the Nebraska Section AWWA will gather for breakfast on November 4th at the Sozo Restaurant at the Holiday Inn. The reservation is set for 7:00 am in the main area of the restaurant.
Awards
Several members will be recognized with honors and awards at our banquet. This year's Fuller Award winner will be named, and several long-term members will be recognized.